Windows and Games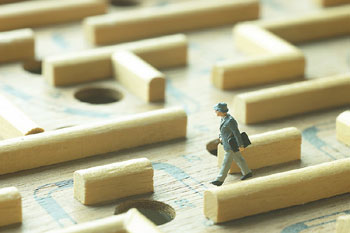 Games on Windows? Wha? According to Microsoft, you can totally play games on Windows. And, it'll just get better, too.
Shanghai 1930. It's a bar, not a place. It's what we games editors like to call one of our billion homes away from home. Drinks, booze, liquor, indoor smoking and some delectable Asian food served by some delectable Asian women are what this place is about. Joy. It was the server girl's name and it was the feeling cuddling my heart. At such a lovely establishment a person might expect to see prominent types -- those wacky people of power and importance. Indeed, they were there, but for some reason we editors were also invited. We always notice each other first.
And what did I notice second? There wasn't a single other notepad in the place! I strut in tired, dingy, gritty and sporting a slew of incomprehensible obscenities along with my petite shoulder bag (it's the free, manly kind used for pilfering booze and silverware) and I see, among the prominence, a startling lack of attention from my fellow pseudo-journalists. Not a goddamned person in the entire place had a notepad, save my good crayon and napkin touting buddies Steve and Tal from IGN and Greg from GameSpot, who came with some piece of recording technology not yet known to normal man. It apparently records video, audio and several dimensions outside of our perception. I believe he got my aura and destiny on one cellular optical projection plate.
With the setting set and the crew inebriated, Microsoft announced its plan for the evening: "Ignite Enthusiast Gamers." Oh boy. Translation: We're all doomed. Eventually, it was said, games should be played on airplanes. Oh my yes, it sounded real bad from the beginning. About five minutes into it everything was confusing, but by the end of the evening, I left legitimately happy and belting out Alkaline Trio's Blue Carolina to a girl who'd rather hear my heart stop. But where did all the happiness come from? Wasn't I enthusiastically ignited?
Games on Windows? Wha? (Continued)
Microsoft adamantly believes we should all be playing games on Windows XP, and the company isn't really sure why we're not. In come Chris Jones, Corporate Vice President, Windows Client Group, along with Dean Lester, General Manager, Windows Graphics and Gaming Technologies, to show us the pluses of Windows Gaming (I kind of know them already) and to explain what they were doing to ensure a playful, personally computing future for us all. Afterward, they beseeched our opinions and advice. I tried to explain how that was their first mistake, but Steve kicked me. Here are the positives and negatives as I see them:
Positives: Communication Innovation Bleeding Edge System Shock 2 Porn Uh... Hmmm... Super Mario 64? Negatives: Everything Setup Config Troubleshooting Boxes Varmint Hunter Worthless Peripherals Installs
Once we had the goods, bads and uglies established, the real questions came: What's next for gaming? How can Microsoft deliver a full-fledged, accessible gaming experience that's cheap and still offers the kinds of things PC gamers have come to expect from their platform of choice? Once again, the kicking I received implied my emphatic shout of "Xbox with a keyboard!" was wholeheartedly frowned upon. Fortunately, no one else was as ridiculously drunk and offensive as I, so the ideas Microsoft came up with were much cooler than my own "Make PCs green, too, dude!"
Dean is not on the Evangelism Team. The non-evangelist was on-hand to describe the steps being taken to propel us into the future and to elicit feedback, which I very loudly offered. Evangelist or not, Dean is in charge of some 200 people who work on DX and the "User Gaming Experience." What they works on affects you, directly. Thankfully, they all appear to be working on some swell stuff that will lead to an eventual Longhorn release.
On November 10th of next month, Microsoft will launch a new website containing the Game Advisor, an attempt to deliver the first real step toward making playing on Windows a more mainstream friendly activity, if that makes any sense whatsoever. To alleviate one of the first burdens Tennessean gamers have with the PC, Microsoft is developing a new automated system requirements checking technology in cooperation with the sometimes controversial Futuremark. Game Advisor analyzes a computer and then, based on an undisclosed set of criteria set by a variety of publishers and Futuremark, decides whether or not you'll be able to realistically play the game. Specifics elude us, but I hear potential, assuming it doesn't just compare system requirements given by publishers with information it takes from your PC. If it did, why not just glance at the bottom of the box? Sure, it's a more simplified yes or no answer on whether or not we'll be able to enjoy Game X, but it might still be the equivalent of the box. According to reps, Game Advisor is not designed for the hardcore, or anyone who knows what kind of computer they're using and can combine that knowledge with the vaunted skill of flipping a box on its side and reading the square of fine print.
That's just the first step, remember. For the future, there are several key issues that Microsoft is looking at fixing to really bring PC gaming to the forefront of the digital interactive entertainment market (that line is all me). We have no install play, standardized gamepads, graded system requirements, and more.
Games on Windows? Wha? (Continued)
Though the event lacked the substantial details we were all hoping for, and in fact simply restated a lot of what has been known since the last GDC in San Jose, it's always refreshing to meet people smarter, richer and better off than you. It's like a king sauntering about his villages looking to see what the local peasant trash thinks so that he can use that knowledge to make the kingdom better and possibly procure a new concubine or a cow or two. The small updates on progress and general openness of Microsoft was appreciated, seriously. Anyway, let's sum up the goods real quick. No Installs: The technology is there and Dean assures us Microsoft is already testing the functionality and working steadily to perfect it. In the near future, there will be a day when our entire catalog of new games will not require one second of installation time. A true plug and play future, they claim.
Standardized Controller: The specs are still being finalized and third-parties are still being dealt with, but the standardized gamepad has not faded into oblivion. It is very much a reality, one that could even be bundled alongside Longhorn and future copies of XP with a variety of OEMs.
Dissing the Xbox: With Microsoft's console in an upswing, we may see a return of our favorite MS franchises, including Crimson Skies, Midtown Madness, MechWarrior and Links. In fact, Dean strongly hinted that some or all of those very labels wouldn't be away from Windows forever. Though it was stressed that Microsoft Games Studios, presented as a completely separate entity from Windows Group, was responsible for the ultimate decisions, the whole ordeal was apparently not the malicious theft of our best franchises and subsequent ruining of them for the Xbox that we all thought it to be. They just needed the brands and needed them dumbed down for what they assumed to be a seriously retarded console playing audience. Now they should be coming back. Yes!
System Requirement Grading: Aside from the Game Advisor, steps are still being taken to establish a numbered or lettered grading system to rank games. If you have a system "1" then you can play all games labeled 1 - 5. However, if you have a system "5," you can only play games 5 and below at decent performance levels. Obviously there are a few fundamental problems with this system. What happens when a year goes by and a four suddenly becomes a five? How are those numbers determined, seeing as each and every system out there is built of an immense variety of different components? Who determines what is and what is not acceptable performance? At what settings will these games be tested? The problems go on; nevertheless, work continues.
The rest of the event was all EverQuest 2 and stats. Surprise, surprise, to further differentiate Microsoft Windows from Microsoft Games, a competitive third-party publisher with a strong game in direct competition to MS's own Mythica was on-hand displaying its ware. I'll recite all the ogre fondling and skeleton chopping goodness another time (doing everything at once means doing nothing tomorrow, and if I were to do that, surely someone would eventually realize I am intentionally doing nothing at all).
Games on Windows? Wha? (Continued)